According to the Declaration on Research Assessment  (DORA), we believe that the high quality of the research and of its description (i.e. the high quality of the papers' content) is more relevant than indexing. However, since the carrier of young scholars might depend on journal indexing, here below you can find information on IxD&A indexing and metrics.
IxD&A journal indexing
• Scopus – since Winter 2008 (Issue N. 3-4)
• Emerging Sources Citation Index – Web of Science – since the beginning of 2015 (Issue N. 24)
• DOAJ (Directory of Open Access Journal) and ROAD (Registry of Open Access Scholarly Resources)
• GoogleScholar and DBLP -> link
• Norwegian register of scientific journals, series, and publishers -> link
• Danish Bibliometriske Forskningsindikator (BFI) 
IxD&A is also listed in the:
• dblp (computer science bibliography) -> link
• EdTech Journals (a listing of journals in the area of educational technology, instructional design, and distance learning) -> link
Domains of reference of IxD&A Journal
Design (as a subdomain of Architecture) — Media Technology, Human-Computer Interaction and Computer Science Application — Social Science — Education.

Metrics
(for an overview and a brief description see link)
SJR (2022) = 0.356
corresponding to the following rankings for IxD&A domains of reference:
• Design (/Architecture): Q1 (81th percentile) – 30th in the World (8th among the open access ones, 5th among OA journals indexed in WoS)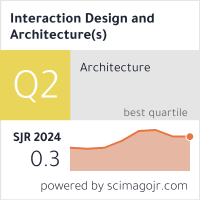 • Media Technology: Q2 (64th percentile)  – 25th in the World (3rd among the open access ones, 2nd among OA journals indexed in WoS)
• Social Science (miscellaneous): Q2 (61st percentile) – 272th in the World  (53rd among the open access ones, 30th among OA journals indexed in WoS)
• Human-Computer Interaction: Q3 (30th percentile) – 91th in the World (25th among the open access ones, 13th among OA journals indexed in WoS) 
• Computer Science Application: Q3 (39th percentile) – 477th in the World (143rd among the open access ones, 85th among OA journals indexed in WoS)
• Education: Q3 (49th percentile) – 735th in the World (155th among the open access ones, 106th among OA journals indexed in WoS)
1st in all domains of reference among the Italian journals
SJR (2021) IF: 1.639 (2 years) – 1.533 (3 years) – 1.380 (4 years)
CiteScore 2022
Design (/Architecture): Q1  –  Media Technology: Q2  –  Education: Q2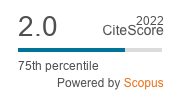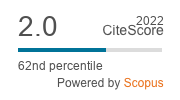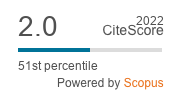 SNIP (2022) = 0.634; IPP = 1.33
h-index = 16
CWTS -> link
Publishing figures 2022
• overall acceptance rate of regular papers: 20%
• overall acceptance rate for special issues & focus sessions: almost 50%
• issues -> 4 (3 special issues + 2 focus sections)
• published papers -> 44
• authors -> 138 (+ 17 guest editors)
• authors' provenance -> 25 countries (4 continents)
Austria 1
Brazil 17
Canada 7
Denmark 2
Ecuador 1
Finland 4
France 4
Germany 4
Greece 2
Italy 11
Malaysia 5
Mexico 3
Namibia 2
Portugal 26
Romania 3
Singapore 1
South Africa 2
Spain 18
Sri Lanka 3
Sweden 3
Taiwan 3
The Netherland 6
Turkey 5
United Kingdom 1
United States 5
Publishing figures 2021
(older figures can be found here)
• overall acceptance rate of regular papers: less than 10%
• overall acceptance rate for special issues & focus sessions: almost 50%
• issues -> 4 (3 special issues + 2 focus sections)
• published papers -> 33
• authors -> 108 (+ 17 guest editors)
• authors' provenance -> 22 countries (4 continents)
Argentina 8
Australia 15
Austria 4
Canada 5
Colombia 8
Denmark 5
Finland 16
Germany 10
India 2
Indonesia 1
Italy 3
Korea 3
Mexico 4
New Zealand 1
Norway 2
Portugal 3
Spain 2
Sweden 7
The Netherland 5
Turkey 3
United Kingdom 3
United States 2
The 5 most cited papers so far (April 2023):
1) Michael Sailer, Jan Hense, Heinz Mandl, Markus Klevers
Psychological Perspectives on Motivation through Gamification, Issue N. 19, pp. 28 – 37, 2014
abstract, download  (https://doi.org/10.55612/s-5002-019-002)
2) Ann Light & Clodagh Miskelly
Sharing Economy vs Sharing Cultures? Designing for social, economic and environmental good, Issue N. 24, pp. 49 – 62,  2015
abstract, download (https://doi.org/10.55612/s-5002-024-003)
3) Carlo Giovannella, Marcello Passarelli, Donatella Persico
The Effects of the Covid-19 Pandemic on Italian Learning Ecosystems: the School Teachers' Perspective at the steady state, Issue N. 45, pp. 264 – 286, 2020
abstract, download (https://doi.org/10.55612/s-5002-045-012)
4) Giannis Altanis, Michalis Boloudakis, Symeon Retalis, Nikos Nikou
Children with Motor Impairments Play a Kinect Learning Game: First Findings from a Pilot Case in an Authentic Classroom Environment, Issue N. 19, pp. 91 – 104, 2014
abstract, download (https://doi.org/10.55612/s-5002-019-007)
5) Bart Rienties, Quan Nguyen, Wayne Holmes, Katharine Reedy
A review of ten years of implementation and research in aligning learning design with learning analytics at the Open University UK, Issue N. 33, pp. 134 – 154, 2017
abstract, download (https://doi.org/10.55612/s-5002-033-007)
Reading Stats
We started to update the reading stats in April 2023
(older stats can be found here)
In April-September 2023 IxD&A website has been visited by scholars (almost 40 users per day) from 116 countries (located on all continents); more than 105 visualizations per day according to Google Analytics, almost 105 resolved DOIs according to Crossref
The 20 most active countries in the domains of interest of the journal are (in square brackets the variation of the position in the ranking with respect to the year 2019):
1) United States [-]
2) United Kingdom [+1]
3) Netherlands [+2]
4) Italy [-2]
5) Finland [+8]
6) Germany [-2]
7) Australia [+1]
8) Spain [+1]
9) France [+8]
10) China [n.a.]
11) Turkey [+9]
12) Portugal [n.a.]
13) Brazil [+2]
14) India [-9]
15) Austria [-4]
16) Canada [-6]
17) Sweden [-10]
18) Colombia [n.a.]
19) Norway [-5]
20) South Korea [-10] & Malaysia [n.a.]